In the nearly two years since the coronavirus pandemic, closures, remote working, supply chain issues and changing priorities have affected almost everyone's lives at some point. The scientific process itself is no exception. Many of those who engage in laboratory work, experiments and human studies to further understand science face challenges — many of them unexpected.
To see how the pandemic has changed the course of science, we asked four researchers about their experiences over the past two years.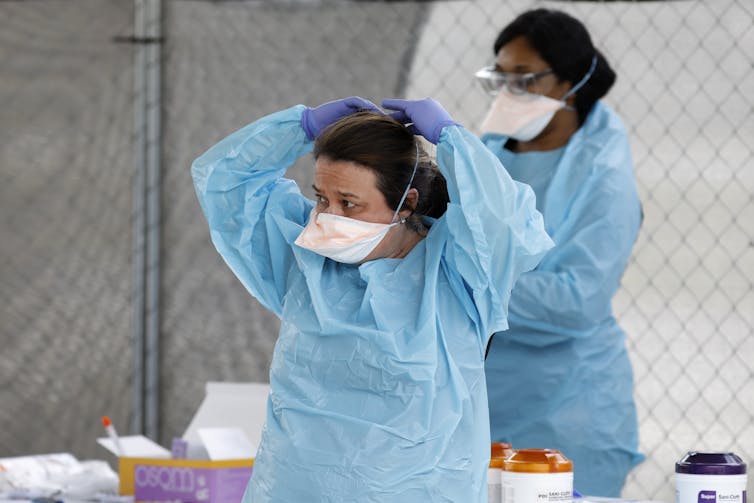 Two health care workers wearing masks.
In the early days of a pandemic, a lot of scientific testing is needed to understand how masks protect health care workers. Ap Photo/Mike Smith
Balancing public needs through science and guidance
Christian L'Orange, Assistant research Professor of mechanical Engineering, Colorado State University
I am an engineer and aerosol scientist. People usually respond with a bemused look when I say this, and prospective engineering students rarely know that aerosol science is even a field of study. All that has changed with COVID-19.
In March 2020, when the world was told to stay home during the first weeks of the lockdown, the Colorado governor's office asked the university and my lab to test masks purchased for front-line workers.
Within a few days, we spent all our time testing masks. It was at the expense of our research: everything was put on hold. Still, we're proud to be able to do it. There are few more satisfying experiences — however bittersweet — than knowing that you have made a difference in your time of need.
An important reason for me to do this work is my love of research and the opportunity to mentor students. COVID-19 took them away for nearly two years. Research is starting again, students are returning to the lab, but we're not going back to that time.
My colleagues and I were able to respond to the governor's request for mask testing simply because of years of skill and experience working in the lab — but what would those skills have led to if we hadn't lost the last two years? What else would my students have achieved if they hadn't lost that time?
Even though we did well, these questions still bother me.
However, I am optimistic that the epidemic may ultimately benefit aerosol research. I no longer get stared at when I mention airborne particles, and maybe this epidemic will attract new bright students to the field I'm so passionate about.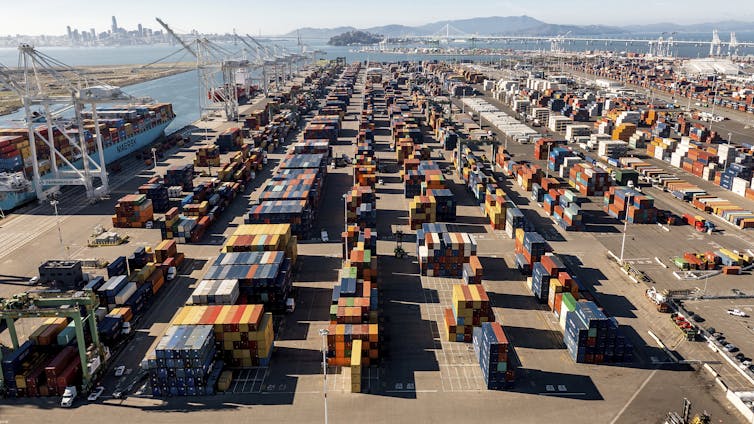 Thousands of containers are stacked on the docks.
Science supplies – from chemicals to plastic containers – have been affected by supply chain problems. Ap Photo/Noah Berger
Resource sharing solves supply chain problems
Erin Lavik, Professor of chemistry, Biochemistry and environmental Engineering at the University of Maryland, Baltimore County
My lab — where MY colleagues and I work on biomaterials to control bleeding, deliver drugs, and build tissue — was shut down in March 2020 because of the coronavirus. In June of that year, when the LABS on campus began to reopen, we restarted our program with a skeleton staff.
We expected challenges in getting some supplies and chemicals for vaccine production, but I was very surprised at how difficult it was to get everything. The plastic utensils we used in our experiments became impossible to find. Many chemicals are delayed by months or even years.
To keep science projects moving forward, my lab and many others on campus banded together to share supplies and take care of each other's projects. Due to unexpected and sudden isolation, we can't just do our jobs — we need to know what others are doing and be willing and able to step in at a moment's notice to complete a chemical reaction, take care of a few cells in a petri dish or record important data.
The challenges of limited supply and isolation are not over, and may even get worse. But through the collaborative system that my colleagues and I have established, we have been able to continue to advance research, albeit at a slower pace. Like everyone else, we're all getting better at collaborating remotely.
Teach it directly to the public
Tony Schmitz, Professor of Mechanical, Aerospace and Biomedical Engineering, University of Tennessee, Knoxville
The challenges of the pandemic are significant and ongoing, but my personal experience at the intersection of COVID-19 and science has been surprisingly positive.
I run the Machine Tool Research Center, researching ways to improve and speed up the parts manufacturing process. Processing is important because it is still the key process for making finished goods, but the U.S. labor force is declining sharply. As THE University of Tennessee transitioned from face-to-face to online teaching, this new time away from the office gave me the opportunity to produce videos and written content explaining the science and modern skills of machining to a lay audience.
The online training I developed is like a flight simulator for processing. No prior experience is required, it provides a step-by-step explanation of computer-aided manufacturing skills. It explains the geometry and physical properties of machining and simulates the real vibrations and sounds of manufactured parts.
But I'm not the only one with time on my hands. Educational and supply chain disruptions provided time for students and manufacturing professionals to explore the online training I was doing. In a sense, these two factors have created a perfect storm for non-traditional processing learning, which has been well received. Since the course began in December 2021, 1,756 people have signed up and 676 have completed it. The participants included 36 percent of industry workers and 64 percent of students, representing 47 states.
It's great to have the opportunity to teach machining in a unique way to a wider audience, and I'll continue to do so. The Department of Defense is funding this work, and in the future I plan to expand the network and add face-to-face training sites to complement online mentoring. Despite the difficulties caused by the shutdown, this would not have been possible in a normal year.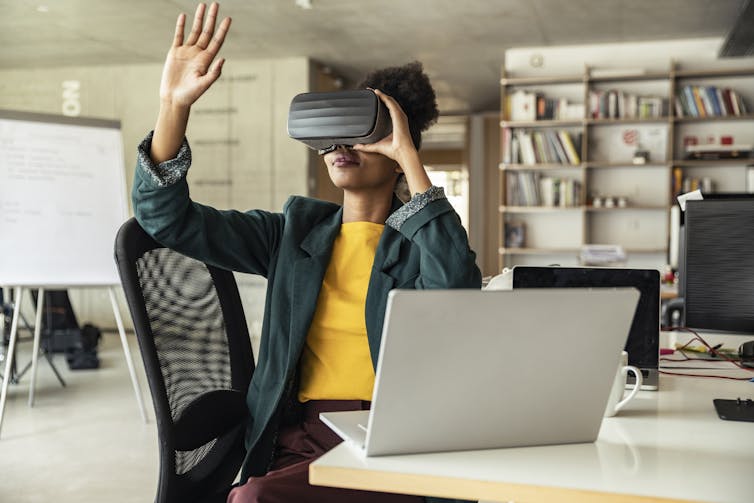 A woman wearing virtual reality goggles.
Virtual reality can mimic many hands-on experiences. Westend61 via Getty Images
Use technology when you can't meet in person
Nilanjan Banerjee is a professor of computer science and electrical engineering at the University of Maryland, Baltimore County
At the Mobile Pervasive and Sensor Systems Lab, my colleagues and I try to understand how people's physical states — stress, for example — affect team performance. To study this, we needed to collect physiological data, such as heart rate and heart rate variability, while the subjects played group games themselves.
Unfortunately, because of the coronavirus, it has been impossible for most of the past two years to get people to play face-to-face. In many cases, teleconferencing tools can get work done, even if they are more tiring than meeting in person. But Zoom calls simply don't mimic the immersive environments and physical responses I studied for team games.
If my colleagues and I were to continue our research, we needed an immersive but safe way for our study participants to interact. So, we developed virtual reality games. In the months that we relied on virtual reality, my colleagues and I realized that these games not only worked, they were actually better than face-to-face games because the virtual environment was completely distractive.
[More than 140,000 readers rely on The Conversation's newsletter to learn about The world. Sign up today.]
Developing virtual reality games and making them as realistic as possible isn't cheap. But compared with normal face-to-face studies, it's a simple, inexpensive and effective platform to study how groups perform under different conditions. Since it allows our team to study these things without having to have subjects in the same room at the same time, we plan to continue to use this platform for future large-scale studies, even after the pandemic.